The Seville April Fair, also called Feria de Abril is the most important cultural festival in the city, together with the celebration of Easter. More than 1,000,000 people come every year to celebrate, dance, east, and meet friends.
When is the Seville Fair and how long does it last?
La Feria is normally held in April, although the date varies depending on the year as some have been held in May, for example the Feria of 2019 will begin on the fourth of May. The fair lasts one week, starting on what is known as el Lunes del Pescaito and lasting until the following Sunday.
In recent years the fair has been extended from 7 to 9 days, beginning on Saturday and lasting up until Sunday night the following week.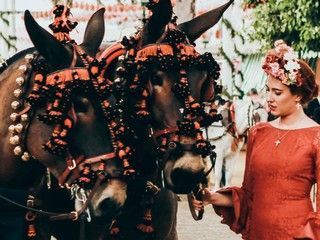 What is and what happens in the Seville Fair?
During the week of La Feria, fairgrounds known as Recinto Ferial is cleared and set up specifically for the celebration in the neighborhoods of Los Remedios and Tablada. Every year more than a thousand colorful booths are transformed into even brighter bars and public and private dance floors.
Each booth, or Caseta, anywhere from 10 to 50 members both friends and family, has the right to invite who they want, often filling every booth to the brim.
Inside, friends and family gather surrounded by typical Andalusian dishes including seafood, potato omelettes, montaditos, croquettas, and the famous puchero broth, a reconstituent soup that is enjoyed after a long day at the Fair.
Flamenco music and dance, especially Sevillana, surround you in almost every Caseta as live musicians perform the typical dance of the city. Sevillana is one of the most popular forms of Flamenco and is heard on in this kind of festival in Southern Spain. Each Sevillana consists of four verses with breaks in between sets.
As for the typical costumes of la Feria, a cornucopia of color is seen throughout the streets of the fair as women come dressed in a beautiful variety of flamenco dresses especially for the festival. The men can be seen in blue Corto uniform suits and hats as they ride their horses through the streets.
La Feria within itself is divided into streets, having its own addresses and numbers and making up its own mini neighborhood, making it easy to locate friends and family to celebrate with. There are also maps and staff to help and consult throughout the streets.
Additionally, a unique opportunity to ride through the streets of the fair on horseback is allowed during the day.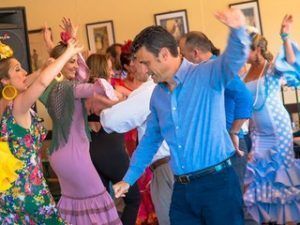 Can I go to the Fair if I don't have a booth or if I don't know a Sevillian?
Of course you can. There are plenty of public Casetas that are full of amazing food, dance, and festivities. Over 20 larger booths represent a political party or specific neighborhood in the city, and are all open to everyone! Here are some of them:
Costillares , 22 – Distrito Nervión- San Pablo

Antonio Bienvenida, 97 – Distrito Casco Antiguo

Pascual Márquez, 153 – Distrito Triana-Los Remedios

Pascual Márquez, 215 – Distrito Este

Costillares, 82 – Distrito Cerro-Amate

Pascual Márquez, 85 – Distrito Macarena-Norte

Ignacio Sánchez Mejías, 61 – Distrito Sur-Bellavista

Pascual Márquez, 225 – Caseta Turística

Costillares, 13 – Área de Fiestas Mayores

Costillares, 77 – "La de to er mundo"

Juan Belmonte , 196 – Partido Andalucista

Pascual Márquez, 66 – PP de Sevilla

Antonio Bienvenida, 79 – PSOE Andalucía

Pascual Márquez, 9 – La Pecera

Pascual Márquez, 81 – CC.OO. Sevilla

Antonio Bienvenida, 13 – UGT
It is common to meet and celebrate with people during the fair and you will always be invited into a booth to enjoy the hospitalities and celebrations of those around you. This is a very unique and important festival that should you should see in your lifetime. Come prepared to dance, laugh, eat, drink, and enjoy.
We look forward to seeing you at la Feria!